Social media marketing is ever-changing. It shifts and switches directions quickly and any successful business owner should be on their toes to adapt to these changes. 
Using marketing strategies that were once effective may not necessarily produce the same results, however, one thing is certain – you have to keep up with the changes to maximize your results. And, remember, strategies are different from tactics.
According to CIRA (the Canadian Internet Registration Authority) almost 90% of Canadians have an internet connection. Nearly all of them use social media to some extent, and 61% engage on social media every single day. This alone echo's a wakeup call to those who aren't giving it enough attention. All of these people, along with the rest of the world, influence the constant fluctuation of trends and practices in the industry that affect your brand.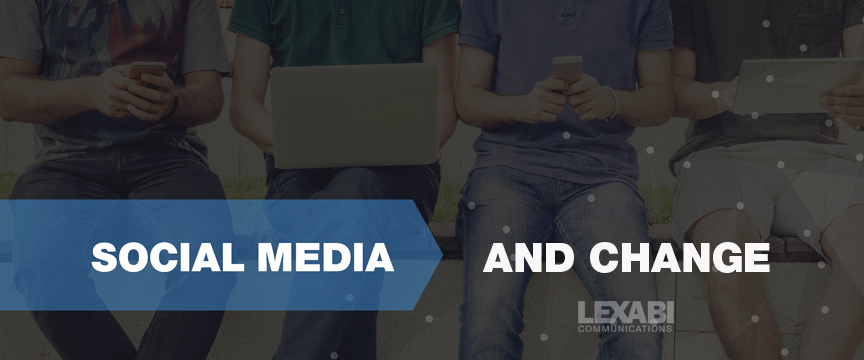 Here are three things to keep an eye on if you want to stay on top of your social game.
.
Make sure you're visual – professional graphics and video
Statistics from Go-Globe predict that 82% of internet traffic will be live video by 2020. Social media giants such as Facebook and Instagram have now adapted to 'Stories', first invented by Snapchat. These ephemeril videos (that usually have a lifespan of 24 hours) are growing 15 times faster than the typical feed posts. While it's still important to balance content styles, Stories are a great way to enhance personal branding because they feel more realistic and in the moment.
If you think you're not being judged by your social media content, you're wrong. People want authenticity but they're also looking for it to be presented professionally and with thought. People are getting better and better at being able to decipher the difference between a brand that invests in its presentation and a brand that doesn't care – and the brand that doesn't care about itself, is seen as not caring about its customers much either.
Rebuilding trust and loyalty
2019 was a tough year in terms of trust. According to the 2019 Edelman Trust Barometer Global Report, people's trust in social media is still low globally due to data breaches, privacy concerns, and data manipulation (also known as buying followers). This report shows 73% of people worry about false information or fake news being used as a weapon.
While influencer marketing has been widely effective for some social media marketers, it is now more important to start rebuilding trust through more transparent and meaningful engagements. Take Facebook Groups, for example, they've been around for a long time but people are beginning to embrace them more and more due to the desire for privacy. 
By humanizing, or putting a face to your brand, and engaging on a more personal level, you allow people to get to know the people behind it all. This strengthens your reputation and more importantly, earns customers trust which, in turn, creates loyalty.
Keep Content Going and have an Ad Budget
Facebook continues to be the most popular social media channel but organic reach remains low and shows no promise of getting any higher. LinkedIn is invaluable to a B2B business and is all too often overlooked for both content and advertising.
Investing in Facebook or LinkedIn ads can sell products, get people to attend events and/or simply heighten brand awareness. These marketing avenues should be taken seriously but the most important thing to do is to define your goals and then choose what will get you the best results. And, yes, we can help you through this.
Don't forget the importance of ongoing content and professional design throughout your digital channels. This is the best way to connect with your loyal fans on an ongoing basis. And, don't forget, even if you don't have as many likes or follows as you might want – every single person knows a few more people. If someone is your loyal fan and often sees something from you in their feed, at any moment in their life, they may be having a conversation with someone, and in that conversation a need may come up to which they will reply with a shining review of why someone should do business with you. I've had that happen several times.
 A business owner should know what to focus on and adjust when necessary, however, it all still boils down to what works for you and what doesn't. With everything so fast-paced in today's marketing landscape, it's important to be aware and accepting constant change.
Any business can compete on a larger scale with social media – that's the beauty of it – there's no limits if you invest & do it right.